PEWITT001
---
Real estate taxes need to be paid timely while financing. It is the Buyer's responsibility to contact all taxing authorities.
Failure to do so could result in a total loss of amounts paid.
Property#4: State Hwy 228, Walnut Ridge, AR 72476
Total Price: $1,387.00
Monthly Payment: $115.59
Last Payment Received: 12/11/2020 ($115.59)
*Current Balance: $1,155.82
Next payment Due March 1st 2021
Payment site: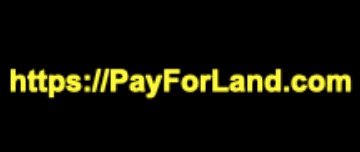 Or Mail Payment to:
Cheap Lands, Inc.
P.O. Box 966
Summerfield, FL 34492
Property#5 : Brushy Creek Cv, Elizabeth, AR 72531
Sale Price: $6,077.58 (paid delinquent tax)
Monthly Payment: $243.55
Last Payment Received: 01/08/2021 ($243.55)
* Balance: $5,357.90
Next payment due March 1st
Payment Site:
OR
Mail Payment to:
Cheap Home Finders, Inc.
P.O. Box 881655
Port Saint Lucie, FL 34988
* Balance amounts are estimated and will be confirmed upon payoff for accuracy.
---
PAID IN FULL
Property#1: 521 N Walnut St, Warren, AR 71671
Total Price: $1,300.00
Monthly Payment: $108.33
Last Payment Received: 11/18/2020 ($511.69)
*Current Balance: PAID IN FULL
PAID IN FULL
Property #3: Main, Ravenden, AR 72459
Total Price: $433.00
Monthly Payment: $36.08
Last Payment Received: 11/22/2020 ($360.88)
PAID IN FULL
Property#2: Main, Ravenden, AR 72459
Total Price: $780.00
Monthly Payment: $65.00
Last Payment Received: 1/2/21 ($455.00)
*Current Balance: $455.00
PAID IN FULL