DARWIN001
---
Real estate taxes need to be paid timely while financing. It is the Buyer's responsibility to contact all taxing authorities.
Failure to do so could result in a total loss of amounts paid.
Property #1:  Weible Dr. Hooversville, Pa 15936
Total Price: $11,500.00
Monthly Payment: $125.00
Last Payment Received: 02-06-2021 ($125.00)
* Balance: $1,525.00
Property #2: S Railroad St, Woodson, AR 72180
Total Price: 500.00
Monthly Payment: $25.00
Last payment Received: 02-06-2021 ($25.00)
*Balance: $350.00
PAYMENT ATOMATIC THROUGH POP PAY
---
Property#3: TN-69, Paris, TN 38242
Total Price: $2,601.00
Monthly Payment: $185.79
Last Payment Received: 1/6/2020 ($185.79)
*Current Balance: $2,229.42
Next payment Due February 1st 2021
Payment site: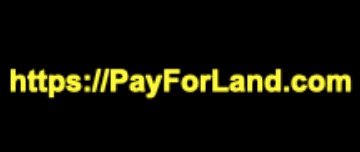 Or Mail Payment to:
Cheap Lands, Inc.
P.O. Box 966
Summerfield, FL 34492
* Balance amounts are estimated and will be confirmed upon payoff for accuracy.