BDAVID002
---
Real estate taxes need to be paid timely while financing. It is the Buyer's responsibility to contact all taxing authorities.
Failure to do so could result in a total loss of amounts paid.
Property: MS-12, Lexington, MS 39095
Amount Financed: $13,600.00
Monthly Payment: $566.67
Last Payment Received:
* Balance: $10,147.30
Next Payment Due: April 1st
*Credit of $3,452.70 was credited on 3/24/2023 from amount paid for Stockyard Rd, Pickens, MS 39146.*
Payment site: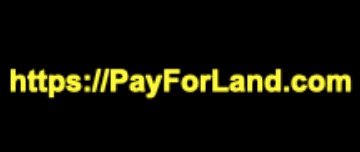 Or Mail payment to:
Cheap Lands, Inc.
PO Box 1141
Homosassa Springs, FL 34447
* Balance amounts are estimated and will be confirmed upon payoff for accuracy.
---
FORFEITED:
Property: Stockyard Rd, Pickens, MS 39146
Amount Financed: $13,090.00
Monthly Payment: $545.41
Last Payment Received: $546.00 (02/02/2023)
* Balance: $9,637.30
Next Payment Due: March 1st
*Credit of $1,706.70 was credited on 2/22/2023 from amount paid for MS-12, Lexington, MS 39095.*